It's Apple Picking Time and This Year's Apple Crop is Fantastic!




Pick-Your-Own Apples Hours: Open Daily 8am - 5pm




** As of Oct 19th, PYO Varieties: Spencer, Gala, Rome, Golden Delicious, Red Delicious, Mutsu, Fuji, Granny Smith, Cortland, & Empire **

Our easy to reach trees make it a fun, safe, and enjoyable Apple Picking experience. We provide maps of our Orchard so you can find your favorite Apple Varieties and Apple Picking Bags (or feel free to bring your own bag). You could also plan a picnic to enjoy our beautiful orchards. Unfortunately, due to health regulations, only service dogs are permitted.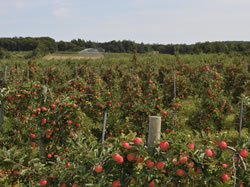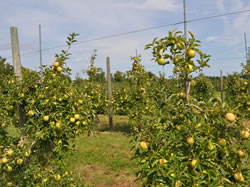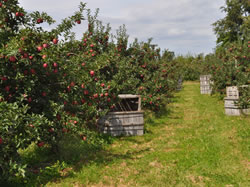 Descriptions of the 19 Apple Varieties we offer at 'U-Pick':
Baldwin – Heirloom variety. Sweet and juicy. This crisp apple is a desirable variety for pies. Late variety.
Cortland – Crisp, pure white flesh resists browning when cut. Juicy and Tart tangy flavor. Dessert quality. Excellent for eating out of hand, cooking, and cider. Less aromatic than MacIntosh. Very good in salads.
Empire – MacIntosh x Red Delicious. MacIntosh type with better flavor and color. Creamy and Juicy. Resists bruising. High dessert quality.
Fuji – Crisp, juicy with outstanding texture. Late variety.
Gala – Firm, juicy, fine textured, yellow white flesh. Sweet slightly tart flavor. For folks with a sweet tooth, Gala is the best!
Golden Delicious – Firm, crisp, sweet, juicy, flavorful flesh. High quality all purpose apple.
Granny Smith – A good quality tart-flavored apple. Keeps well.
Honey Crisp – Best described as explosively crisp. A cross between Macoun and Honeygold. Excellent eating apple.
Jonagold – Crisp Fruit - both juice and aromatic, but also a sweet-sour taste. Good for Sauce, Pies, and Salads.
Jonamac – Mildly aromatic sweet flavor. A crisp and juicy flesh which is excellent for eating or sauce.
MacIntosh – Crisp, juicy, spicy, tart, excellent cider, highly aromatic.
Macoun – Firm, aromatic, all-purpose high quality dessert apple. Super crisp, sweet, juicy, mild flavor; tart and aromatic.
Mutsu – also called Crispin, is sweet, firm and crisp. It is good for sauce, pies, and fresh eating.
Northern Spy – Heirloom variety. Tangy, robust, juicy, and firm. Late variety.
Pink Lady – New pink fruit with hard white flesh. Snappy and sweet.
Red Delicious – Crisp, juicy, mildly sweet.
Rome – Extremely hard and crunchy. Great for cooking and eating. Late variety.
SnowSweet – Sweet taste with a slightly tart balance. Slow to brown which makes it great in salads or simply sliced.
Spencer – MacIntosh x Golden Delicious. Very sweet with crisp juicy flesh. Fine flavor. Excellent eating quality and great for desserts.